171 Paholyothin Road, Don Muang, Bangkok
Welcome
Most of the major Air Force museums throughout the western world are well patronised and documented, and we know what exhibits are held there. However, there are a considerable number of collections in Eastern Europe and Asia that are not so well known. The collection assembled by the Royal Thai Air Force is one of these.
Firstly, I must point out that I am not a Thai citizen and I do not speak or write in the Thai language. My knowledge of this interesting country has been gained from several visits over the past few years. If anywhere here I seem to be critical of Thailand or its people, then I humbly apologise.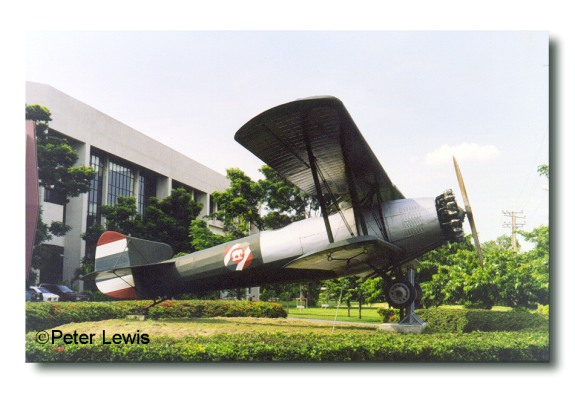 Most visitors to Thailand are surprised to discover that the level of English comprehension within that country is surprisingly low. The average citizen, if not employed in a trade that deals directly with foreigners (tourism, retail, hospitality) has little knowledge of spoken English. Even within the tourist trade, if you deviate from the normally expected questions, the level of comprehension falls off quite remarkably.
At the time of my visit, the location of the Museum was not shown on any map that I could find. We asked a tourist guide to write the name of the Museum, in Thai script, on paper. After showing this around among the taxi drivers assembled outside our hotel, we finally found one who admitted that he knew the location. Once we had launched forth in his taxi, we were not so sure that he was telling the truth about this. He got us near the airport quite quickly, but then seemed to be searching up and down the roads to find the right entrance. Finally, he stopped outside an impressive set of locked iron gates, and assured us, by sign language, that this was the right place. His English was, of course, negligible. Having received his fare, he took off at high speed into the thundering flow of traffic and was soon out of sight. Turning around, we discovered the iron gates had sprouted several hungry guard dogs and three armed men in military uniforms, none of whom seemed keen to see us.
Attempts to communicate with this reception committee resulted in total mutual incomprehension. Only the production of my pilot's licence seemed to protect us from either being shot or torn to bits by the dogs. Given this document, one of the guards unlocked the gate and produced a telephone. A three way conversation between us, the guards, and someone at the other end of the phone line resulted in us being taken through the building to small office where a female Thai military officer decided that I could go around and look at the exhibits if my partner stayed with her in the office as a sort of hostage.
This suited me, and I was able to wander freely and unescorted throughout the complex. As well as aircraft, there are displays of photographs and artifacts. As far as we could tell, the system is designed to cope with groups rather than one-off visitors. "But there are no groups" we said. They agreed . . .
Since that time, the Museum has appeared in some guidebooks and maps. However, details provided are usually sketchy, and the maps (as in the case of the well-known Nancy Chandlers map, 2000 version) sometimes show it in the wrong location.
As you will see, the aircraft are displayed within two main buildings plus a large outdoor compound, protected only by a single rope barrier. Conditions are good, and the aircraft seem to be mainly in sound condition. There is virtually nothing in the way of information provided, and some aircraft are jammed so tightly together that it is impossible to photograph them. No doubt there are other gems stored away out of sight.
I have attempted to list and photograph what I saw on that visit. The official RTAF website provides only limited information, so I have had to assemble data from a number of sources, old and new. Most aircraft seem to have been recently repainted in bland uninformative colours devoid of serials and squadron markings. I would love to have the chance to get in there and really dig into the history of these machines, so if you visit the museum (or their website) tell them that I am ready and willing!
Finally, if you do have any more details on the magnificent machines or their past history, e-mail me and give me the details so that we can all benefit from the accumulation of knowledge.
Sawasdee
Peter Lewis
May 2001
Site updated and debugged June 2004. Thanks for updates, corrections and extra information from Martin Jones, Johan Ragay, Steve Darke, Mike Whaley, Brian Jorgenson, Thomas Singfield, Santi Vibul, Doug Macphail, and others.
Additional updates/amendments May2005 - thanks to all those who assisted.