Breguet 14B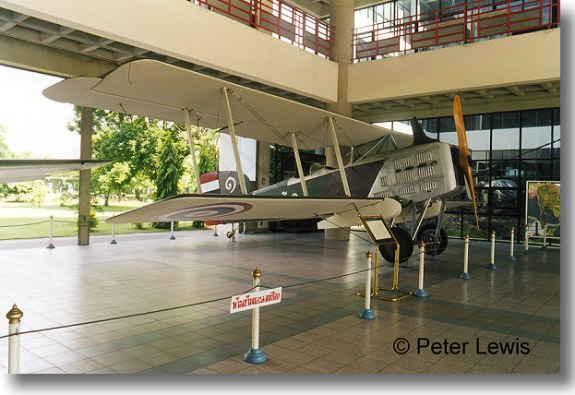 The Breguet 14 was one of the most successful French aircraft operating in the latter stages of World War 1. About 5500 examples were built during the war by several manufacturing plants. Production continued post-war, and these aircraft were in service with the French colonial powers well into the 1920s. Usual engine was a 300hp Renault 12F, which gave a top speed of 110mph.. Due to wartime shortages of this engine, many Bre.14s were fitted with the 300hp Fiat A-12 engine.
The 14B was the bomber version of this design. The Breguet was also built in the 14A (reconnaissance), 14E (trainer), 14S (ambulance), 14H (floatplane) and 14T (civil passenger) versions. Records indicate that at least seven of these machines were imported from France in the years following World War 1, with about 30 more being either assembled or manufactured at the Don Muang workshops. The Bre.14 remained in service with the Thai military until replaced by Japanese aircraft in 1940.
This Breguet 14 is a replica built 1980-1981 by Roland Payen for Salis Aviation as F-AZBH, and appears in some French TV series. Under the wings you can see the two containers for postal use, but for this replica they are additional fuel tanks. Visible on the engine cowling you can see a row of exhausts, the replica flew with an Hispano 12 X, instead of the unobtainable Renault. Also visible is a tail wheel , which does not appear on original versions. In France there is still another replica of the same batch which flies regularly airshows, as does another, more precise, with good wings profile. There is also an original model in the Le Bourget museum.
This aircraft displays the Thai symbol for the numeral '1' on the fin and along the side of the rear fuselage. Some sources say that this represents the first aircraft in Thai military service, but given that the Bre.14 was a 1916 design and the first Thai military aircraft were imported from France in 1913, this does not seem feasible. There are claims that this honour belongs to a Nieuport monoplane.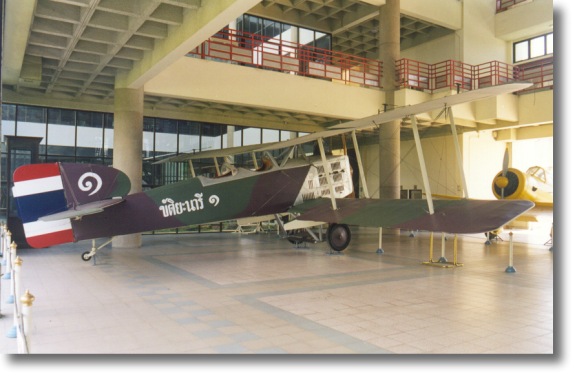 Page updated 2May2005