Douglas C-47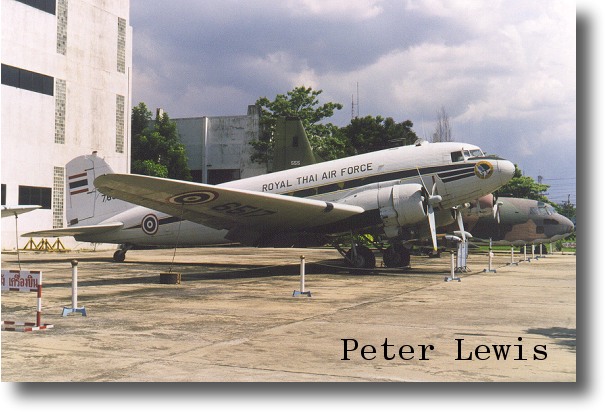 There are few countries in the world that have never used a C-47 as a mainstay of their air transport operations, and Thailand is no exception. The Douglas series of all-metal transport monoplanes started with the 10 passenger DC-1 of 1933, went into volume production with the 14 passenger DC-2 of 1934, and was developed into the 24-passenger DC-3 of 1935. Civil production in the U.S.A. was augmented by large scale production for the U.S. military as the C-47 as well as licensed production in the U.S.S.R. and Japan.
Military C-47 aircraft were generally powered by two 1100hp Wright Cyclone radial engines, and these gave the aircraft an economical cruising speed of 165mph over a maximum fuel range of 1510 miles. The C-47 entered service with the resusitated RTAF in 1948, with over seventy examples serving through to 1998.
This aircraft has been painted white, with mainly blue detailing. The code number on the fin is '76517', with the last four digits of this repeated under the wing. One report quotes the constructors number '16101/32849' for this aircraft, which relates to a previous US Army Air Force serial of 44-76517
Aircraft behind is a Fairchild C-123 transport.
Page updated 2May2005