de Havilland Canada DHC-1 Chipmunk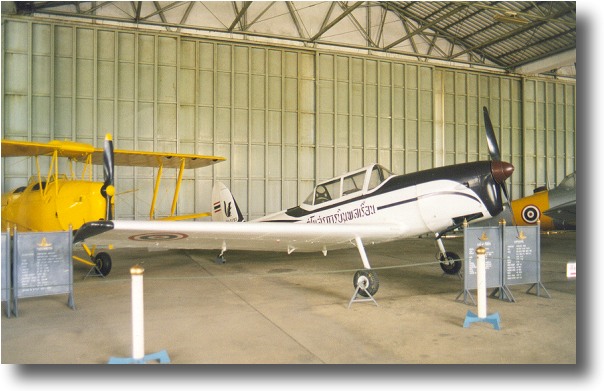 The Chipmunk was designed in Canada as a military trainer to replace the legendary Tiger Moth. The prototype first flew at Toronto on 22nd May 1946. After the Chipmunk's adoption by the R.A.F., production was transferred to England, and over one thousand of these aircraft were built there. Sixteen Chipmunks served with the RTAF over a fifty year period from 1948. I understand that many of these were extensively modified in the Don Muang workshops in the later years.
Fitted with a Gipsy Major 10 engine developing 145hp. the Chipmunk could cruise for 280 miles at a speed of 119mph.
This Chipmunk is painted white with dark brown trim, and the Thai script reads 'Thai Flying Club'. At some stage, it carried the serial '9-5/93'. One report quotes a constructors number '133' which, if true, would make this a very early Chipmunk.