Douglas A-1J Skyraider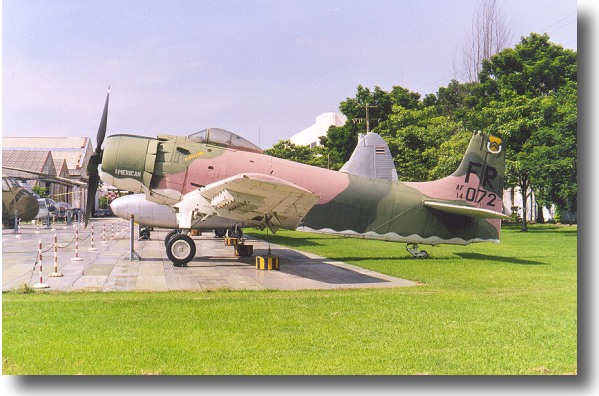 The Skyraider was developed late in World War II as a replacement for the US Navy's SBD Dauntless divebomber. In 1963, the U.S. military modified the AD-5 Skyraider for service in Vietnam as the A-1E. Its ability to carry large bomb loads, absorb heavy ground fire, and fly for long periods at low altitude made the A-1 particularly suitable for close-support missions. The A-1J was a conversion from the AD-7 series Skyraiders, and were allotted US serials in the range 142010 through 142081.
The A-1 has the ability to fly for 1500 miles at its cruise speed of 240mph, and its Wright R-3350 engine developing 2700hp could pull it to a maximum speed of 325mph.
This would be an ex-USAF aircraft, and carries the tail markings 'FR - AF072 - 14' The word 'AMERICAN' appears on the engine cowl. The Skyraider does not appear to be listed as as type in service with the RTAF, and this aircraft may be an ex-Vietnam machine.

Jim Brisbois states: ' I was stationed at Nakhon Phanom RTAFB in 69-70. At that time there was an A1 on static display in front of the headquarters building. The nose bore the name "The Proud American" This may be the same bird that is now shown in your photo.'
One source quote the US serial '142072', but notes that this is not an original serial, and that the aircraft is built up with parts from from more than one airframe.