Vickers-Supermarine Type 379 Spitfire F.XIVe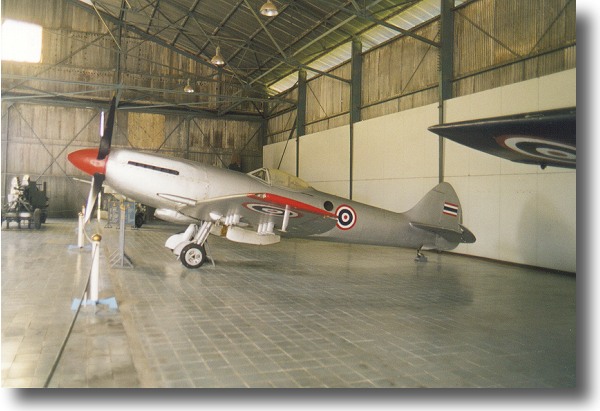 The Spitfire is one of the great classic aircraft of all time. The earlier versions of this fighter were powered by the Rolls-Royce Merlin engine. In order to keep the Spitfire competitive with faster enemy aircraft, later versions of the Spitfire utilised the Rolls-Royce Griffon engine. The Mk.14 Spitfire was a high-altitude development of the marque, and was often used for photo-reconnaisance work. This particular machine seems to feature camera windows to the rear of the cockpit.
The Griffon 65 engine of 2050hp fitted to the Mk.14 gave a top speed of 448mph.
The silver paint on this aircraft gives no clue as to identity, but a serial of '2493' has been quoted.
Spifire research sources identify this aircraft as ex-RAF SM914. Thirty Spitfires of this mark saw RTAF service from 1948 through to 1958.
One source claims that major parts of a second Spitfire, a PR.XIX, are also held here. This could be the sole Spitfire PR.XIX that served with the RTAF from 1946. This machine, which could be either ex RAF serial PM630 or PM836, was acquired in Thailand by an overseas organization. I am told that when they attempted to remove it from the country, the Thai authorities confiscated the aircraft.