North American T-6F Texan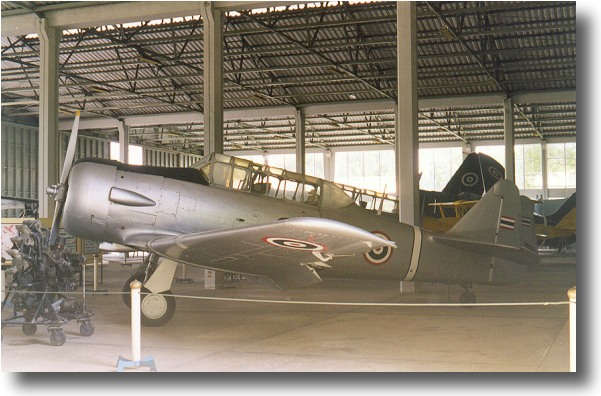 The Texan was the standard advanced trainer for the US Army Air Force, and was also widely used within the British forces as the Harvard. After initial flight training on a basic aircraft, trainees would move on to the T-6 to learn the vagrancys of retractable undercarriage, variable-pitch propeller and other advanced equipment. After 1945, over 2000 of these aircraft were re-manufactured and updated as the T-6G for export to over 40 'friendly' air forces throughout the world. 138 of these aircraft were delivered to Thailand, where they were active from 1948 to 1981.
I have been told that this aircraft is not a T-6G. It is either an AT-6For a Harvard with an 'F' rear canopy section - the giveaway is the extra long (1 more panel in length) of the rear, fixed, section of the cockpit canopy.
Powered by a 550hp Pratt & Whitney R-1340 radial engine, this aircraft type was widely known for the distinctive harsh drone of of its propeller on take-off.
Apart from the standard Thai national makings, there seems to be no other identifying marks carried on this aircraft. A previous source quotes the serial '122'. Ex 51-14666, c/n 182-353 from data plate.
Page updated 2May2005