Surprisingly, this small country town halfway down the Yorke Peninsular in home to a world-class aviation relic - a genuine Great War Bristol M1C fighter aircraft.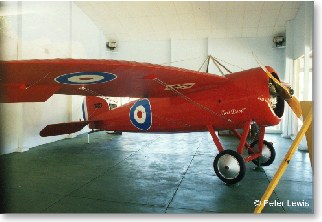 The Bristol M1C monoplane was designed in 1916 by the Bristol Aeroplane Company of England for service in the Royal Flying Corps. Although at that time was of the fastest aircraft in the world (at 132mph) it was rejected for front-line service because its landing speed of 49mph was considered to be too fast for the small French airfields. The small number built saw service mostly in the Middle East.
Harry Butler was an Australian boy who grew up in the Minlaton area, and traveled to Great Britain where he trained as a pilot and flew in the RFC. After the armistice in November 1918, he bought two aircraft (an Avro 504K two-seat biplane and the Bristol Monoplane C5001) from the War Disposals Board, and returned with these by ship to Melbourne in 1919. He started an aerial training and charter company in Melbourne, and at one stage flew from Melbourne to Minlaton and landed in a field there before returning to his Melbourne base.
Captain Butler was the pilot of the Avro when it crashed in January 1922 after the engine failed. He survived the crash, although seriously injured. He did not fly again, and died from cerebral problems in July 1923.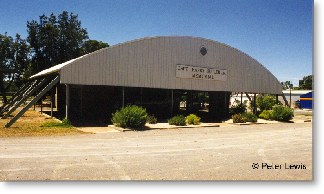 The Bristol aeroplane was sold, and re-engined by its new owner who flew it occasionally until the outbreak of World War II. After the war, the aircraft was rediscovered and eventually restored to its original condition, and is now housed in a well presented building on the main road into Minlaton. The memorial is a real credit to the residents of this small country town.
We traveled from Adelaide to see this aircraft, and happened to choose a Sunday when the temperature soared to 47 degrees Celsius. Add to this a strong wind blowing straight off the nearby desert, and our situation was not only uncomfortable but rapidly approaching a serious state. As the air-conditioning in our vehicle struggled to cope with the heat, the fuel situation became critical. We were forced to track down a fuel supplier (closed on a Sunday) and pay him to open his pumps in order to get back to Adelaide. By driving in stages, and then stopping and allowing the engine temperature to drop back to something reasonable, we made it back home. Others were not so lucky that day - we saw several vehicles that had overheated, and a little further North, two tourists who tried to get back from their stranded camper van died in the attempt.
Be warned - and be careful.