These pages display a selection of the vintage, historic and classic aircraft that we saw during our month-long trip to Australia in December 1998 - January 1999.
Arriving in Sydney just before Christmas, we then traveled across the Blue Mountains to Bathurst, then down through Cowra to Canberra. From Canberra we tracked across to reach the coast at Merimbula,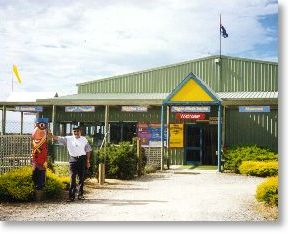 and followed the coastline down to Melbourne. After a most interesting New Year celebration at the Melbourne Casino, and visiting friends at Ballarat, we headed back across to the coast at Torquay. Following the scenic Pacific Highway route we reached the town of Portland, and then headed inland for the Grampian mountains, Hamilton, and into South Australia at Bordertown. Adelaide was the the end of our trip, but we did have time there to travel out to the Yorke Peninsular, Barossa Valley, and a three-day trip on the Murray River Princess paddlesteamer.
During pre-trip planning, I discovered there were something like 60 locations along this route where historical aviation artifacts could be found. Unfortunately, my partner showed an adverse reaction when I suggested we needed to average two sites a day. A certain amount of culling then took place, and a short list of 'must see' locations survived. These are the ones you see here.
Meanwhile, a big THANK YOU to all the individuals who helped with information, access and time to make this trip such a marvelous experience: